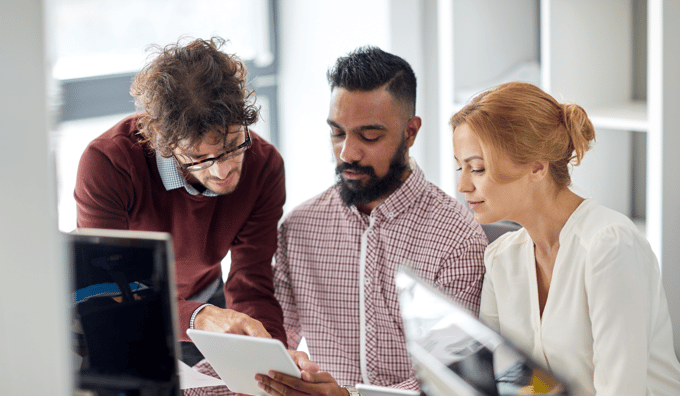 How Three Financial Services Firms Increased Communications Security
For financial services firms, data security is the lifeblood of a successful business. As services become increasingly digital, institutions need to find secure ways to move vast volumes of information between global networks of stakeholders while minimising risk and maximising efficiency.
Here we examine three different approaches to creating secure communication channels across platforms and how that delivers a superior customer experience, return and risk profile.
Royal London secures their email network
Royal London is the UK's largest mutual life, pensions and investment company. As such, careful management and encryption of customer and internal data is key. One of the largest risk areas for Royal London was information in transit, between teams, advisers, and customers.
Choosing the right systems
Royal London had taken steps to secure their email communications with separate security solutions, one for communicating with customers and one for corresponding with advisers. However, this proved inefficient, with a lack of compatibility between the systems slowing down communication.
Their solution was to deploy Unipass Mailock as their end-to-end communications provider for all types of email contact.
'Unipass Mailock will reinforce our existing security measures by helping to secure our communications and to ensure that the person opening the email is authorised to do so, thereby also helping to protect against fraud.' explains Will Pritchett, Royal London's Chief Technology Officer.
Communicating securely
Moving to Unipass Mailock delivered several core advantages for the Royal London team, including:
Increased efficiency through using one system for both the adviser and the end customer.
Making it easy for advisers to open secure emails by using widely-adopted

Unipass Identity

authentication.
Smooth implementation and easy adoption by their admin teams.
Saving on paper and postage costs when sending information that previously could only be sent by post, contributing to their ESG goals.
Removing inconsistencies in approach between different business areas.
For financial services businesses, the right security software goes beyond practical enablement. Unipass Mailock enables Royal London to demonstrate to their advisers and customers that they take protecting their data seriously, while offering them an industry platform on which to send and receive messages free of charge.
HSBC adopts messaging anywhere
HSBC is one of the world's leading banks, with over 40 million customers across 64 countries, served by more than 200,000 employees. As an incumbent market leader, it's important for them to evolve with their customers' habits and needs in order to remain relevant in their day to day lives. This is especially important when it comes to communications and maintaining close relationships with clients.
Getting closer to customers
With over 80 per cent of the world now owning a smartphone, HSBC recognised the need to move to more modern communications strategies. However, as a trusted institution, it was important that any solution be secure, trackable and agile.
In-app messaging is a key opportunity to digitally engage in a personal and timely way. HSBC recognised that they needed to ensure a high consistency of communication across notifications and live chat to take advantage of this opportunity and create the best user experience.
In order to do this, engineers needed a flexible system that could ingest large amounts of data, from transactions to statements, analyse it, and push out relevant communications to the right user, in line with their preferences. They chose to build their systems with Amazon Web Services (AWS) due to its flexibility, security and transparency.
Optimising and securing communications
HSBC needed a platform that could process and analyse 100m transactions a day, with significant variation in terms of day and monthly cycles. AWS enabled them to scale volumes without having to maintain the underlying infrastructure themselves.
Their system sources real-time event data through a secure pipeline, including customer account data and transactions. From there it passes through five microservices:
EventMap Service to convert data to a common format.
Customer Service to onboard customers and manage preferences.
Messaging Service to create and deploy communications.
Notification Service to create notifications and push them to customers.
Platform Service to underpin authorizations and security across the network.
This makes it easy for clients to receive exactly the communications they want, based on accurate, real time information, while HSBC's internal team can leverage the same network to communicate with customers based on live visibility for exceptional, personalised service.
Man Group takes their team remote
Global investment firm Man Group was founded 1783, but the advent of the global pandemic brought challenges they had never faced before. Suddenly, they needed a way to coordinate, manage and connect their 1400 strong workforce in a secure environment.
The challenges of remote
As lockdowns came into effect across the various operating territories of Man Group, teams were unable to go into the office.
To bring their team together incumbent Man Group chose a tool more often associated with new startups – Slack. Internal technology teams had already been using the tool but the rest of the workforce had continued to use Lync and Skype for Business. Slack Enterprise Grid offered a secure way to bring the whole enterprise onto the same network to support quick and effective decision-making with high security.
Security and flexibility
While the business needed a flexible solution that teams could use from anywhere, they also needed to balance their stringent security and compliance obligations by tracking and controlling usage.
A key element in this was mobile usage. Slack's Enterprise Mobility Management tools enabled Man Group to control how their company data was used and accessed on mobile devices, creating a security perimeter and preventing any kind of loss in customer data or personal data internally.
Key benefits of this transition include:
Reducing departmental silos by bringing conversations into public channels where suitable.
Harmonising communication between remote and in office teams.
Ability to create custom apps to solve internal workflow challenges.
Integrating with existing software stack elements such as Webex.
Mitigating the financial impact of closed offices.
Prioritising secure communications
In an increasingly digital world, communications security is no longer a 'nice-to-have'. Financial services need to demonstrate compliance, security and reliability at every stage of their customer journey. This is especially important for client facing services such as email.
Unipass Mailock is a secure email solution specifically designed for the financial industry. Using award-winning encryption technology, institutions can create end-to-end secure communication channels for internal and external stakeholders to move data, documents and gather information securely. Unipass Mailock securely digitises company comms, helping you to:
Decrease reliance on paper-related processes
Engage and instil trust in clients
Streamline internal operations
Comply with rising regulations
To find out more about how Unipass Mailock can secure your communications, start your free trial today.